IMR 4166 possesses the fastest burn rate in the Enduron lineup. It is the perfect burn speed for cartridges such as .308 Win, 7.62mm NATO, 22-250 Rem ...
View details

IMR Enduron 4451 is a versatile, match-grade propellant with a mid-range burn speed in the Enduron line. It is an extruded powder and is perfect for c...
View details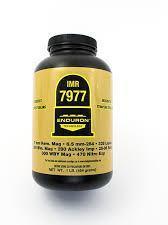 IMR Enduron 7977 is one of the slower burn rate propellants in the Enduron family. Loading density is perfect for magnums, contributing to superb unif...
View details